DANA Mobile valves - DCV series
DCV series: All the production Dana Brevini want to be a high quality production.
DANA Mobile valves - DCV series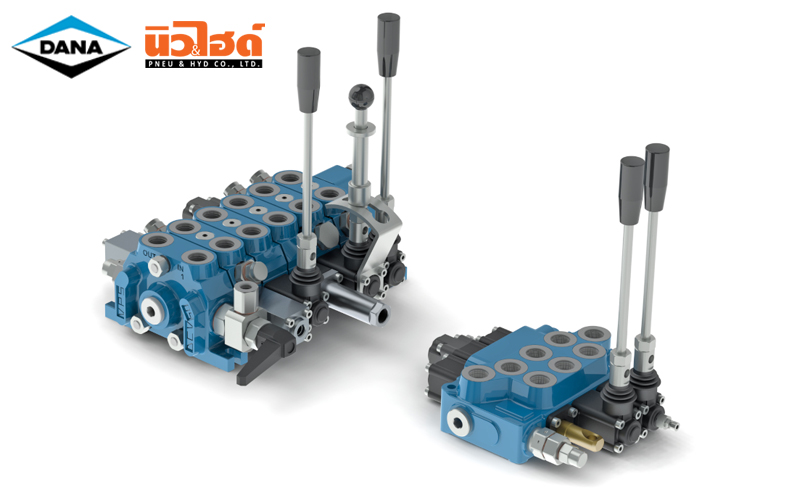 Feature | DANA Mobile valve DCV
Infact the project of each single valve and the choice of the better materials, machined with the highest tecnologies and under the strongest controls in each process, allow highest characteristics and numerous applications described in the following pages.
all the casting are made in Shell-Moulding, in special graphite cast iron. This kind of cast iron is in higt resistance, and it allows to have, with the same external overall dimensions, bigger internal gallery, and lower pressure drops
all spools are made in high resistance steel, nichel plated, radial balanced and with special notches in order to have a better sensibility
all springs are made in high resistence steel. Pressure setting springs are pressed before testing
max tolerance of spool housing is 2 micron
internal leakage at 120 bar, 50° C and oil 30 cSt is beetwen 1 and 2 cm³/min, depending from the kind of spool and the kind of valve.
General condition of work
DCV series
Max working temperature
-25 - 80 °C
Suggested working temperature
30 - 60 °C
Max back pressure
20 bar [290 PSI]
Max contrmination level
NAS 1638 class 9
(19/16 ISO-4406)
Fluid oil
Mineral oil
Kinematic viscosity
10 - 460 mm2/s
Filtration
β 12 ≥ 75
Spool are available with different metering, marine protected, Viton® seals, special spring, etc.
---
Specifications | DANA Mobile Valve DCV
Model
Monoblock Valves
Modular Valves
DCV 20
DCV 40
DCV 30
DCV 50
DCV 80
DCV MG
Features
Max section
N.o
6
6
12
12
12
10
Max flow
l/min
40
70
40
70
120
230
GPM
10.6
18.5
10.6
18.5
31.7
60.7
Max pressure
BAR
400
400
350
350
350
350
psi
5800
5800
5075
5075
5075
5075
Circuit
Parallel
•
•
•
•
•
•
Series
•
•
•
•
Tandem
•
•
•
•
Main relef V.
Direct
•
•
•
Piloted
•
•
•
Port relief valves
Overload
•
•
•
•
•
•
Anti cavitation
•
•
•
•
•
Combined
•
•
•
•
•
Threads
BSP
ISO 228/1
Cavity ISO 1179
A-B
3/8"
1/2"
3/8"
1/2"
3/4"
1
3/8" (1)
1/2" (1)
3/4" (1)
P
3/8"
1/2"
3/8"
1/2"
3/4"
1
3/8" (1)
1/2" (1)
3/4" (1)
T
(Standard)
3/8"
1/2"
3/8" (3)
1/2" (3)
3/4"
1
3/8" (1)
1/2" (2)
3/4" (2)
1/2" (1)
3/4" (1)
T (4)
-
-
1/2"
3/4"
3/4"
1"
SAE
ISO 263
Cavity
A-B
9/16"-18UNF
(SAE 6)
3/4"-16UNF
(SAE 8)
9/16"-18UNF
(SAE 6)
7/8"-14UNF
(SAE 10)
1" 1/16-12UN
(SAE 12)
1" 5/16-12UN
(SAE 16)
7/8"-14UNF
(SAE 10) (1)
7/8"-14UNF
(SAE 10) (1)
P
9/16"-18UNF
(SAE 6)
3/4"-16UNF
(SAE 8)
9/16"-18UNF
(SAE 6)
7/8"-14UNF
(SAE 10)
1" 1/16-12UN
(SAE 12)
1" 5/16-12UN
(SAE 16)
7/8"-14UNF
(SAE 10) (1)
7/8"-14UNF
(SAE 10) (1)
T
(Standard)
9/16"-18UNF
(SAE 6)
3/4"-16UNF
(SAE 8)
9/16"-18UNF
(SAE 6) (3)
7/8"-14UNF
(SAE 10) (3)
1" 1/16-12UN
(SAE 12) (3)
1" 5/16-12UN
(SAE 16)
7/8"-14UNF
(SAE 10) (1)
3/4"-16UNF
(SAE 8) (2)
1" 1/16-12UN
(SAE 12) (2)
7/8"-14UNF
(SAE 10) (1-3)
T (4)
-
-
3/4"-16UNF
(SAE 8)
1" 1/16-12UN
(SAE 12)
1" 1/16-12UN
(SAE 12)
-
Spool stroke
A÷B
mm
±5
±5
±5
±5
±7
±8
inch
±0.20
±0.20
±0.20
±0.20
±0.28
±0.31
4th position
mm
-3.5
-5
-3.5
-5
-5.5
-5.5
inch
-0.14
-0.20
-0.14
-0.20
-0.22
0.22
Series
mm
-
-
±4.5
±4.5
±5.5
±8
inch
±0.18
±0.18
±0.22
±0.31
(1) Threads availables on request
(2) Threads availables on requestsolo only for outlet side
(3) Inlet section with top output
(4) Output section with stadard upper thread + carry over