DANA Orbital Motor - BRZ series
Orbital motor with roller design and spool valve distributor. Motion control valve and disengagment brake port as optional. Available with displacement from 50 up to 400 cm3/ giro [from 3.05 up to 24.4 in3/rev and power up to 13 kW [17.4 hp].
DANA Orbital Motor - BRZ series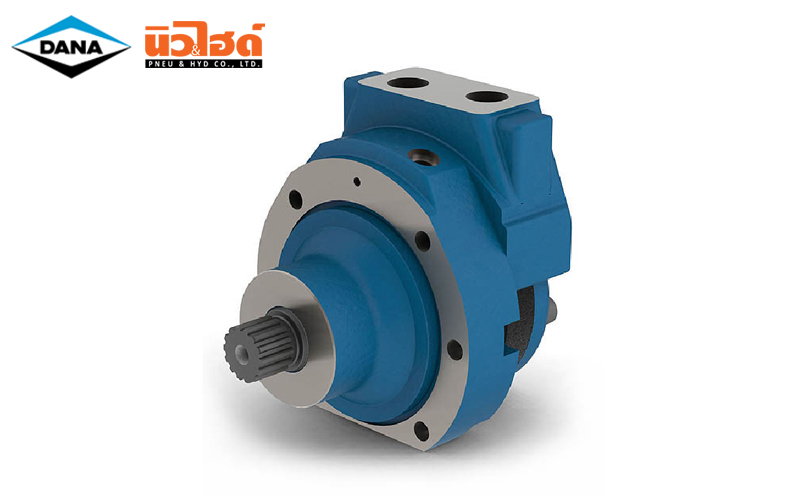 Features | DANA Orbital Motor BRZ
Version

BRZL : Threaded ports motor.
BRZV : Valves version motor.

Optional valves abd accessories

VCT11-SF : Standard motion control valve.
VCT11-AF : Motion control valve with disengagment breke port.
CMZ : Flangeable manifold.
---
Code | DANA Orbital Motor BRZ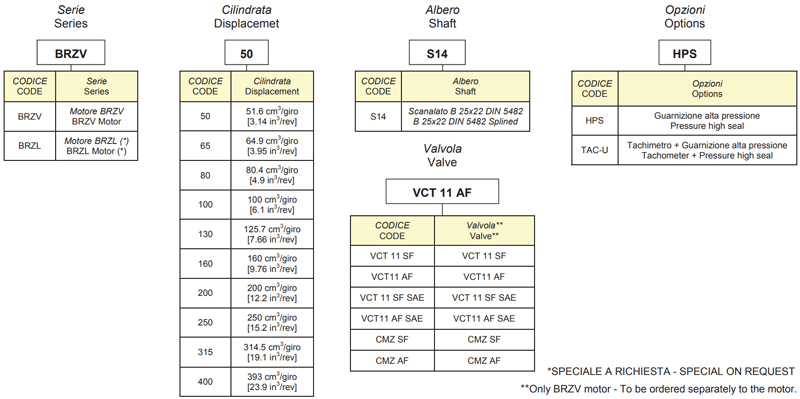 ---
Technical | DANA Orbital Motor BRZ
Motor
Displacement
cm3/giro
[in3/rev]
Max. input pressure
bar
[psi]
Max. different pressure
bar [psi]
Max. torque*
Nm [lbf•ft]
Max. flow
l/min [U.S. gpm]
Max. speed
[rpm]
Max. power
kW [hp]
BRZ 50
51.6
[3.14]
Cont
175
[2537]
Cont
140
[2030]
Cont
103
[75.9]
Cont
40
[10.6]
Cont
775
Cont
6.8
[9.1]
Int1)
200
[2900]
Int1)
175
[2540]
Int1)
126
[92.8]
Int1)
50
[13.2]
Int1)
969
Int1)
8.4
[11.2]
Peak2)
225
[3262]
Peak2
225
[3262]
BRZ 65
64.9
[3.95]
Cont
175
[2537]
Cont
150
[2175]
Cont
140
[103.1]
Cont
50
[13.2]
Cont
770
Cont
9.2
[12.3]
Int1)
200
[2900]
Int1)
185
[2682]
Int1)
166
[122.3]
Int1)
60
[15.9]
Int1)
924
Int1)
10.6
[14.2]
Peak2)
225
[3262]
Peak2
225
[3262]
BRZ 80
80.4
[4.9]
Cont
175
[2537]
Cont
175
[2537]
Cont
197
[145.1]
Cont
60
[15.9]
Cont
746
Cont
13
[17.4]
Int1)
200
[2900]
Int1)
200
[2900]
Int1)
218
[160.6]
Int1)
75
[19.8]
Int1)
933
Int1)
15
[20.1]
Peak2)
225
[3262]
Peak2
225
[3262]
BRZ 100
100
[6.1]
Cont
175
[2537]
Cont
175
[2537]
Cont
237
[174.6]
Cont
60
[15.9]
Cont
600
Cont
13
[17.4]
Int1)
200
[2900]
Int1)
200
[2900]
Int1)
277
[204.1]
Int1)
75
[19.8]
Int1)
750
Int1)
15
[20.1]
Peak2)
225
[3262]
Peak2
225
[3262]
BRZ 130
125.7
[7.66]
Cont
175
[2537]
Cont
175
[2537]
Cont
300
[221.1]
Cont
60
[15.9]
Cont
477
Cont
12.5
[16.8]
Int1)
200
[2900]
Int1)
200
[2900]
Int1)
340
[250.5]
Int1)
75
[19.8]
Int1)
597
Int1)
14.5
[19.4]
Peak2)
225
[3262]
Peak2)
225
[3262]
BRZ 160
160
[9.76]
Cont
175
[2537]
Cont
140
[2030]
Cont
296
[218.1]
Cont
60
[15.9]
Cont
375
Cont
10
[13.4]
Int1)
200
[2900]
Int1)
175
[2540]
Int1)
375
[276.3]
Int1)
75
[19.8]
Int1)
469
Int1)
12.5
[16.8]
Peak2)
225
[3262]
Peak2
225
[3262]
BRZ 200
200
[12.2]
Cont
175
[2537]
Cont
115
[1667]
Cont
297
[218.1]
Cont
60
[15.9]
Cont
300
Cont
8.5
[11]
Int1)
200
[2900]
Int1)
140
[2030]
Int1)
380
[280]
Int1)
75
[19.8]
Int1)
375
Int1)
10
[13.4]
Peak2)
225
[3262]
Peak2
225
[3262]
BRZ 250
250
[15.2]
Cont
175
[2537]
Cont
90
[1305]
Cont
297
[218.8]
Cont
60
[15.9]
Cont
240
Cont
7.1
[9.5]
Int1)
200
[2900]
Int1)
120
[1740]
Int1)
377
[277.8]
Int1)
75
[19.8]
Int1)
300
Int1)
8.5
[11]
Peak2)
225
[3262]
Peak2
225
[3262]
BRZ 315
314.5
[19.1]
Cont
175
[2537]
Cont
70
[1020]
Cont
300
[221.1]
Cont
60
[15.9]
Cont
191
Cont
5
[6.7]
Int1)
200
[2900]
Int1)
100
[1450]
Int1)
420
[309.5]
Int1)
75
[19.8]
Int1)
238
Int1)
6.6
[8.8]
Peak2)
225
[3262]
Peak2
210
[3045]
BRZ 400
393
[23.9]
Cont
175
[2537]
Cont
55
[800]
Cont
292
[215.2]
Cont
60
[15.9]
Cont
153
Cont
5.1
[5.4]
Int1)
200
[2900]
Int1)
85
[1230]
Int1)
425
[313.2]
Int1)
75
[19.8]
Int1)
191
Int1)
6.1
[8.1]
Peak2)
225
[3262]
Peak2
175
[2537]
---
Motor
Max back pressure with drian line
bar [psi]
Max starting pressure in unloaded conditions
bar [psi]
Min starting torque
Nm [lbf•ft]
BRZ 50
Cont
175 [2538]
10 [145]
at △p max
Cont
75 [55.3]
Int1)
200 [2900]
at △p max
Int*
95 [70.0]
Peak2)
225 [3263]
BRZ 65
Cont
175 [2538]
10 [145]
at △p max
Cont
120 [88.4]
Int1)
200 [2900]
at △p max
Int*
140 [103.1]
Peak2)
225 [3263]
BRZ 80
Cont
175 [2538]
10 [145]
at △p max
Cont
160 [118]
Int1)
200 [2900]
at △p max
Int*
180 [133]
Peak2)
225 [3263]
BRZ 100
Cont
175 [2538]
10 [145]
at △p max
Cont
200 [147]
Int1)
200 [2900]
at △p max
Int*
225 [166]
Peak2)
225 [3263]
BRZ 130
Cont
175 [2538]
9 [131]
at △p max
Cont
255 [188]
Int1)
200 [2900]
at △p max
Int*
290 [214]
Peak2)
225 [3263]
BRZ 160
Cont
175 [2538]
7 [102]
at △p max
Cont
250 [184]
Int1)
200 [2900]
at △p max
Int*
300 [211]
Peak2)
225 [3263]
BRZ 200
Cont
175 [2538]
5 [72.5]
at △p max
Cont
250 [184]
Int1)
200 [2900]
at △p max
Int*
320 [236]
Peak2)
225 [3263]
BRZ 250
Cont
175 [2538]
5 [72.5]
at △p max
Cont
250 [84]
Int1)
200 [2900]
at △p max
Int*
310 [228]
Peak2)
225 [3263]
BRZ 315
Cont
175 [2538]
5 [72.5]
at △p max
Cont
250 [184]
Int1)
200 [2900]
at △p max
Int*
300 [221]
Peak2)
225 [3263]
BRZ 400
Cont
175 [2538]
5 [72.5]
at △p max
Cont
250 [184]
Int1)
200 [2900]
at △p max
Int*
320 [236]
Peak2)
225 [3263]